之前用的copper wire有點脆弱
一不小心把兩邊腿部的wire都折斷了(粗暴
今次選用2.5mm粗的aluminium wire(在jusco十元店購買)(*感謝Hermit幫忙: ))))
有人問及如何替TF加wire
於是我順道拍了幾張照片
示範一下我怎樣加 :)))
* 以下將以--中/Eng--兩種語言註解
* 此示範以
Bluefairy
* 的 Tinyfairy* 作模特兒
* the following tutorial is based on Tinyfairy from
Bluefairy
※內容含有人形粿體及肢解圖片,不能接受者請迴避
※Please be reminded that the following content contains naked and separated parts of human like dolls.
♪続きを読む♪
1*
先準備要加線的人形一個 。 2.5mm鋁線一卷 。 剪鉗 。拉筋用繩
Prepare a doll 。2.5mm aluminium wire 。 pliers 。 string for assembling the doll
2*
用以上方法由手至腳部量度二條約39cm長的鋁線 (*以白色虛線為邊界,以免加鋁線後會阻礙人形的手掌及腳掌的活動*)
Measure 2 pieces of aluminium wire of length around 39cm as shown above. (*start and end at the white dotted line as shown, this can avoid non-smooth movement of the hands and feet parts after adding the wire*)
3*
鋁線會像這樣加進人形裡面
The wire will be placed like this inside the doll's body.
4*
放好人形的各個部件準備加線拉筋
Separate your doll and be ready to wire her.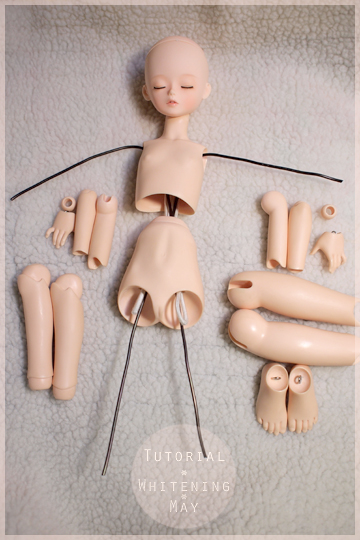 5*
請以自己慣常的拉筋次序及方法把人形重新組合,然後把鋁線一併加進去。這裡先由頭至腳拉起。如圖示。
Please do the assembling together with the wire (as shown) with your own and most comfortable method. Here start with the head.
5*
像這樣讓鋁線跟橡筋一起穿過每個部件
Let the wire and the rubber band go through each parts of the doll as shown.
6*
用同樣方法組合手部
Do the same with the arms
然後就完成了 :)
Your doll is now successfully wired :)
----------------*-------------**-------
讓我們來看看加了wire可以怎樣增加活動性*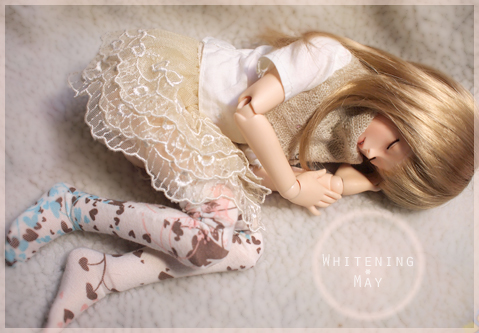 --------------*--
完:)END
TRACKBACK
http://whiteningmay.blog124.fc2.com/tb.php/106-e63cad90